The COVID-19 pandemic forced a massive, unexpected shift in voting methods; voter engagement efforts throughout the country moved largely to virtual spaces. This unexpected shift emphasizing vote-by-mail and early-vote methods required a comprehensive voter education strategy to ensure timely and accurate vote submission. Despite this new demand on organizers and institutions to amend their voter outreach, the turnout in communities across the country was strong—and this was especially true for the Muslim American community.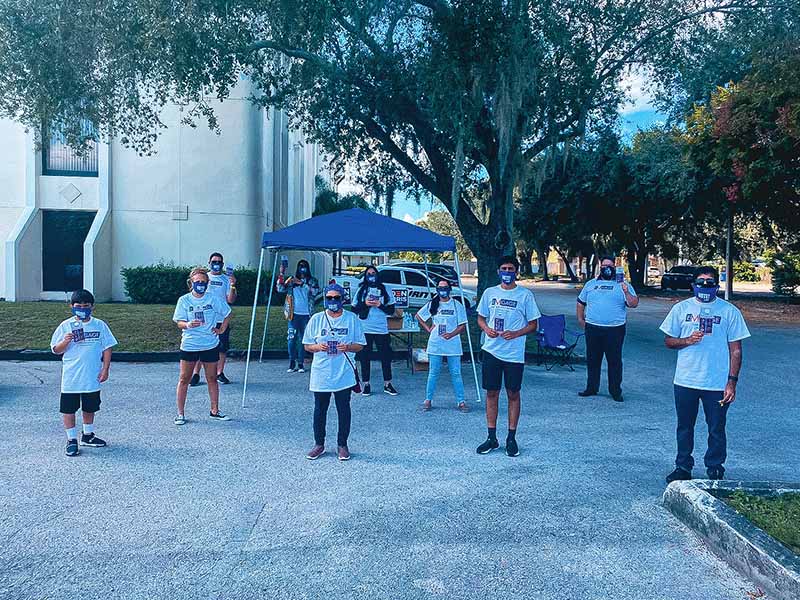 The MMV campaign steered efforts heavily toward a focus on ballot chasing by mid-year 2020. Ballot chasing—an organizing tactic that utilizes several methods of contact with voters to provide the most update information to register to vote, complete their ballot and submit their ballots by their state's deadline—is particularly important for communities such as Muslim Americans; voters with lower voter propensity are prioritized less by large-scale organizing machines. Our campaign stepped in to prioritize Muslim American voters regardless of propensity scale to uplift the same people, who spoke in the same tongues and shared similar values. The ease of organizing digitally with a few clicks—rather than navigating travel, event locations, and permits—allowed new groups to participate in organizing.
Field organizing traditionally has relied heavily on in-person physical engagement, which has been particularly effective in Muslim spaces. According to Emgage's estimates, an average of $60 to $120 is spent per individual commitment to vote. This includes physical and digital mailers, conversations at the door and over the phone, SMS/peer-to-peer messages, and local political engagements (i.e., rallies, GOTV initiatives). Although many organizations transitioned to digital organizing, this transition left a large gap, especially in states where there was limited capacity. Emgage sought to fill this gap by providing a centralized support system that packaged data access, training, and joint events to allow organizers across the country to pool their resources and efforts.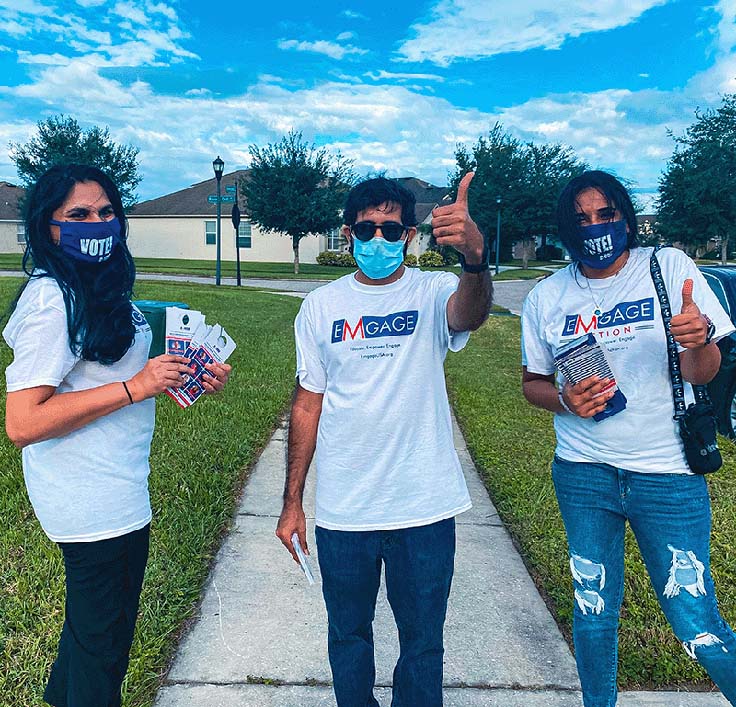 These transitions in voting and voter outreach make a clear case for the importance of investing in civic institutions. Civic institutions not only educate voters on how to participate electorally but also ensure that voters are able to carry out the act of voting by advocating against voter suppression tactics. All of our partners faced challenges as election day neared, juggling new ways of organizing, while also trying to verify and distribute the most accurate and clear information on early-vote laws, ID laws, translation services, absentee voting laws, and so on.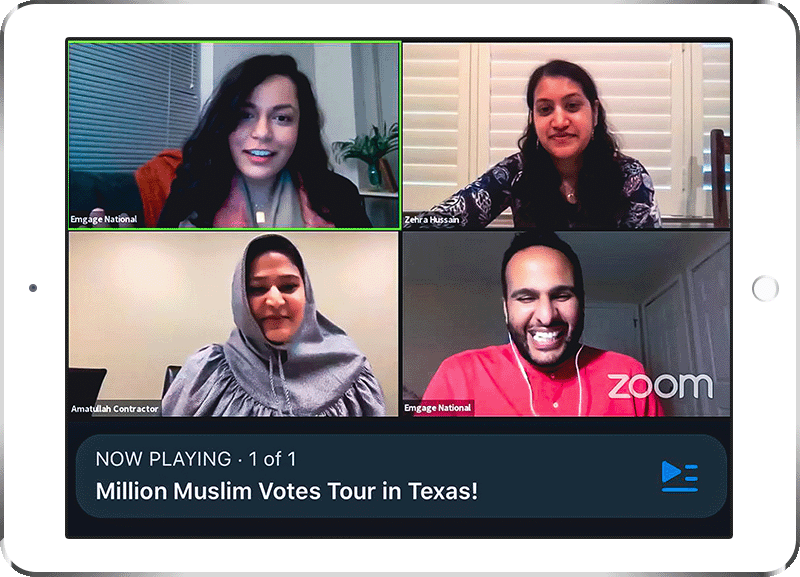 Methodology
Emgage combined methodologies in the planning and implementation of the MMV campaign, coupling data-driven strategies with extensive collaboration and consultation within our civic ecosystem. We used quantitative and qualitative methods to inform the strategic decision on the selection of our outreach universe. We also harnessed telemarketing tools and media to engage a broad set of audiences.
In validating the outreach universe, we used a purposeful sampling method to select 12 states. Voter records from the Targetsmart Voter Activation Network (SmartVAN) were instrumental in guiding our team in locating densely populated Muslim American locations. Records from recent past elections gave us key insights into the Muslim community's voting patterns. Data models were employed to verify the accuracy of the Muslim records sourced. At this stage of our intervention, what was required from the MMV team was to align its resources and strategies to get out the vote. However, it is important to note that the data are not self-reported, which makes the algorithm imperfect. The algorithm is unable to recognize a significant number of Muslim Americans who may not, for example, have a "Muslim-sounding" name.
We used telemarketing to propagate the campaign messaging to our Muslim audience. This approach made use of data tools such as Spoke, ThruTalk, ThruText, Phone2action, and everyaction. Because of the COVID-19 pandemic, the campaign had to pivot its core operations to a digital capacity by April 2020, and we increased our investment in such data tools over time.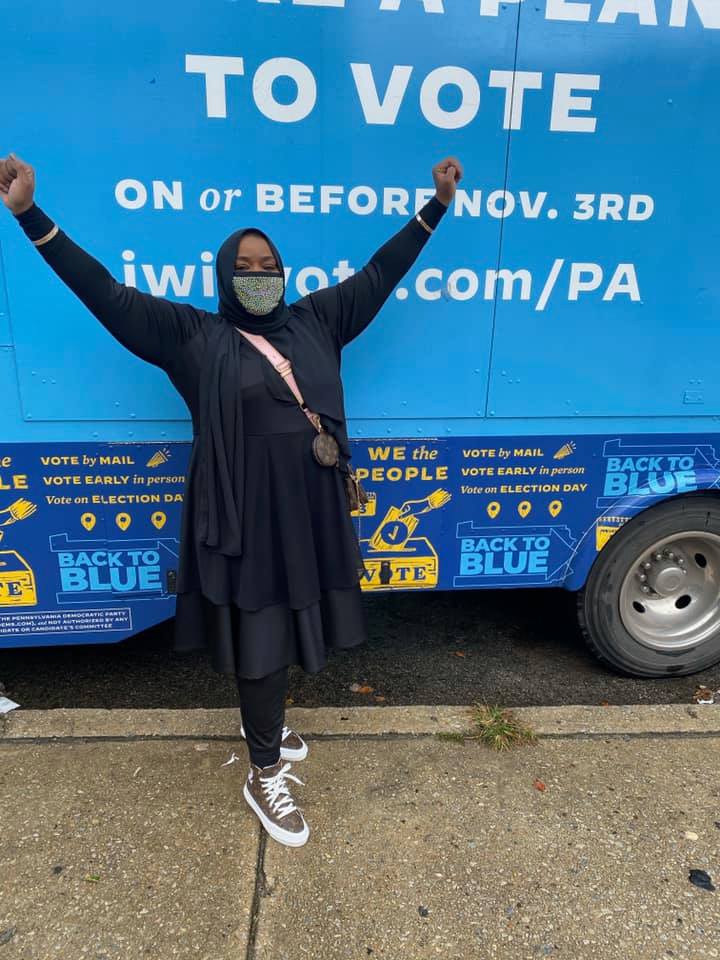 Outreach itself was rooted in the community. Operations were always reviewed and adapted in conjunction with local partners to support the sustainability of existing grassroots efforts. These operations included regional considerations, script messaging, data building, and institutional development. As the campaign improved turnout, we worked to improve the functioning of institutions along with it.
A smaller but significant component of our operation was a heavy focus on ballot chasing. Ballot chasing is the process of confirming that voters are informed of their voting options and have completed the process per state deadlines. Ballot chasing often culminates in several layered methods of contact with voters to ensure that action is taken. Ballot chasing was extremely important in 2020 given the huge shift in absentee voting and vote-by-mail patterns across the nation. Ballot chasing mitigated simple issues such as confusion of ballot drop-off locations or submission issues such as a required secrecy envelope provided with absentee ballots. Overall, ballot chasing was a smaller but significant reason for large voter turnout because it built voter confidence by verifying the process of ballot submission and individuals' plans to vote i.e., date, time, mode of transportation.
Target states were selected because of their Muslim voter population density and the presence of Emgage chapters or partner organizations. In a bid to verify the Muslim voting-age population in each state, we employed certain data-matching algorithms:
Civis Analytics and Targetsmart scores
The Tom K. Wong (Director of the U.S. Immigration Policy Center at the University of California, San Diego) ethnicity algorithm
The Emgage name-matching algorithm
Catalist Data (America Votes and State Voices)
Each set of algorithms were run against states' voter registration databases to capture the required records. The accuracy of the Muslim American voting-age population figures was critical to the MMV campaign because the campaign is specific to the Muslim community. Harnessing these algorithms proved useful as it provided essential population demographics insights such as the ethnicity, race, and religious grouping for each state.